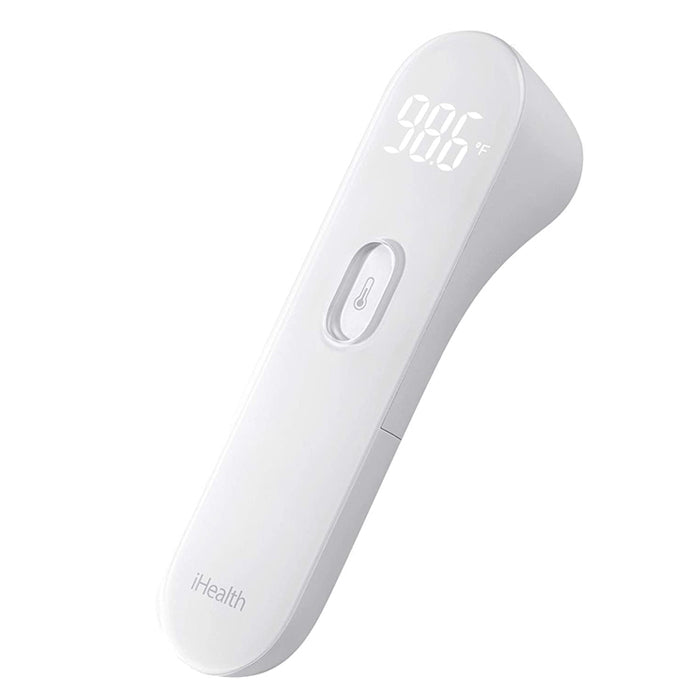 This product is not made by Wyze. In response to the recent outbreak of COVID-19, we here at Wyze identified a few key products that would benefit our employees and our users during this crisis. We partnered with this company and, using our supply chain expertise, are able to quickly bring these products in for Wyze users, health care companies, and government agencies. Wyze is committed to bringing in this product at the best possible price. For more information visit our Wyze In Response page.
The CDC mentions fevers are a primary symptom for those infected with Coronavirus. Be informed about the health of your family by having a quick and easy-to-use thermometer handy, especially during this time of crisis. The iHealth Infrared No-Touch Forehead Thermometer lets you measure the temperature of all your family members without having to run to the sink and wash between uses. It also has a host of other features that make this a necessity in every home:
High-precision infrared sensor technology: Ultra-sensitive infrared sensors measure IR energy emitted from the forehead and collect more than 100 data points.*
Fast & easy testing: Hold. Aim. Press. See your reading in a single second.
Gentle vibrations: Gentle vibration alerts let you know when the measurement is complete, meaning no annoying beeps that wake up a sleeping child.
Safe & hygienic: A non-touch design collects information without any contact, helping to prevent the spreading of infection.
Readable at night: Clean, white LED-backlit display lets you see your measurements, even in the dark.
Adaptive sensors: Built-in distance and environmental sensors adapt as needed to prevent invalid measurements and improve measurement accuracy.
FDA Cleared: This thermometer is an FDA Cleared measurement device.


In the Box
iHealth Thermometer PT3 x 1
Instruction manual in English, French, and Spanish x 1
AAA batteries x 2
Quick start guide x 1